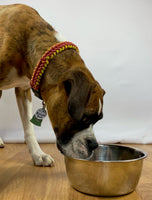 Seriously Good Nutrition
We believe a raw diet is the best nutrition you can feed your pet to promote a healthy, active, and long life. Consider how you feel after a fast food meal, blah, tired, bloated, perhaps upset stomach. Now consider how your feel after a well-balanced meal composed of fresh, natural vegetables and clean organic proteins – easy digestion, satisfied and vibrant. Feeding dry processed kibble to your pets can be worse than your fast food meal! Whereas feeding raw proteins and green tripe is akin to a healthy fresh meal
Seriously Raw

We offer raw protein grinds that provide healthy complete and balanced recipes that meet or exceed the AFFCO and NRC standards.  Our raw Green Tripe products our sourced from Organic grass fed bovines that are raised antibiotic and hormone free. Green tripe is not processed, cleaned, or bleached thus offering the most natural form of food dogs can digest and absorb.




Shop here
Seriously Beneficial
Our raw food and green tripe products promote improved digestion, skin and coat and oral health. Other benefits include stronger immune system, leaner strong body mass, less stool volume and order, decreased anal gland problems, fights degenerative diseases and arthritis.
Shop Here
Emmy loves this stuff so much it's unbelievable.  I mean it's not as if she doesn't love the bones and raw meat she's been getting, but the second I cut into that tripe roll she is on her feet and standing beside me, dancing in the kitchen. What a find!

Beth
Chase is doing great. He's happy and finally at a healthy weight. I think he must be over 70 lbs. now :) It was a miracle to find you! Thank you so much – you saved his life!

Christine
The tripe has been a miracle at fixing Stuka's chronic upset tummy. It was more effective in a few days than months of probiotics. As a bonus both dogs go insane for the taste.

Scott